"We are a creative collective solving problems"
Event Shotgun! BoooOooM!!
Vitamins and Minerals is a social bunch, so we like to have events and bring things that we love together: art, music, food, drink and people! As a group we try to design experiences that tingle all your senses. So be sure to stay tuned for the next VetM event!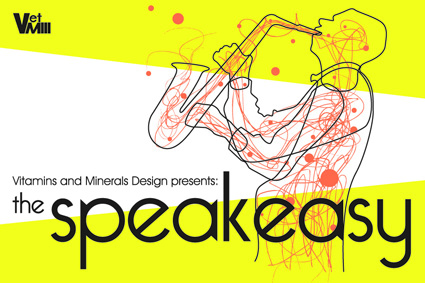 Vitamins and Minerals Design presents: the Speakeasy Happy Hour Lounge.
Happy Hour Lounge with Open Mic at the Sunnyvale Art Gallery. 251 West El Camino Real, Sunnyvale, CA. Saturday, September 10, 2010, 7pm-11pm. Free admission with password, the password is "Michelangelo is my favorite."
VetM is at it again! This time in the bay! If you don't know what a VetM speakeasy is, well it's time you find out! Music, food, drinks, and art. Keep it classy and friendly and we'll all have an awesome time. If you want to perform, there is an open mic! It'll be nice and intimate so no need to get shy, if you have talent, share it! By all means bring your friends, but don't forget the password, we're trying to keep it speakeasy.