"Shotgunning your brains to peices in a creative amalgamy"
VetM
VetM (pronounced vetum) for short is a creative super crew. We've done things like design shirts to putting up rogue art installations. Our motto is Create. Destroy. Repeat. It is a natural cycle, it is the VetM cycle.
Vitamins and Minerals consists of very unique and diverse creative minds bent on stimulating your senses. As each Vitamin or Mineral is essential to a healthy living. Each one of us brings something different, shotgunning your brains to pieces in a creative amalgamy.
The Joint Mix Tape by DJ Effin + Blindside


It's April, and that special day is coming up. This mixtape is just as fresh as it was when it came out last year. Mineral Zink helped with the artwork and it's always a joy to work with DJ Effin. You can download his Sativas mix here.
Man vs Bear
I/Odyne and Mineral Zink answer the ultimate questions of who will win in a fight between a man and a bear, bear and a coffee cup, and a man versus a hamburger...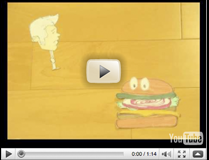 The Speakeasy
Vitamins and Minerals Design presents: the Speakeasy Happy Hour Lounge.
Lounge with Open Mic at the Sunnyvale Art Gallery. 251 West El Camino Real, Sunnyvale, CA. Saturday, September 10, 2010, 7pm-11pm. Free admission with password, the password is "Michelangelo is my favorite."
VetM is at it again! This time in the bay! If you don't know what a VetM speakeasy is, well it's time you find out! Music, food, drinks, and art. Keep it classy and friendly and we'll all have an awesome time. If you want to perform, there is an open mic! It'll be nice and intimate so no need to get shy, if you have talent, share it! By all means bring your friends, but don't forget the password, we're trying to keep it speakeasy.